Creative Commons Images …. We will discuss these in class!
"Old mobile phones"by allytibbitt is licensed under CC BY-NC-SA 2.0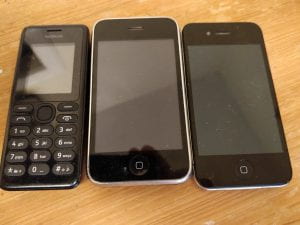 I have started to have a play with the new set up
Kurunjang 2019…….. Story telling and blogging
Some interesting blogs to look at for starters
http://6jacquelineg.edublogs.org/
http://sophieelvis.blogspot.com/
https://adutsebas.edublogs.org/
http://ethancaba14.edublogs.org/
http://24flemingb.edublogs.org/
 SPORTS links:  This is a good opportunity for you to build up your vocabulary in this area.  Use your notebook to take note of any new words / expressions you come across.  Check the dictionary for meaning, part of speech and pronunciation.  make sure you can use the word in a sentence.
Some listening / speaking activities related to this topic can be found at these sites:
Easy: http://www.elllo.org/english/Mixer/63-Sports.html range of sports)
http://www.elllo.org/english/0851/889-Brian-Sports.html (ice hockey)  This one also gives you some hints about how to improve your general skills in the area.
http://www.elllo.org/video/0876/V889ShaliniSport.htm National sport
http://www.elllo.org/video/M051/M063Sports.htm favourite sport
More difficult:
Fencing: http://www.abc.net.au/btn/story/s3277521.htm
Squash: http://www.abc.net.au/btn/story/s3301386.htm
Handball: http://www.abc.net.au/btn/story/s3178735.htm
Social Issues:
Social issues are matters which directly or indirectly affect many or all members of a society and are considered to be problems, controversies related to moral values, or both. Some issues happen around the world (international) Some times an issue can be a bigger problem or more important on one area.
In your text, some of the issues discussed are environmental issues. They still have an effect on people and their lives.
SBA:  Here you can see some videos of good discussions for the SBA component of your assessment.  Remember, the criteria are similar.
January 6: In classes this week, we talked about the saying "you can lead a horse to water, but you can't make it drink".  Nobody can make us learn.  We all have opportunities – it is up to us to make the most of those opportunities.
Some of you have said that the work in class is a bit hard – and sometimes a bit boring.  If you want to do some learning at home using the Internet, one series you can look at is Mr Duncan's Learning English.  The first page is an introduction –  there are many more clips on different topics. It will help you learn some new vocabulary – and you can play and repeat to practice your speaking.
If there are words you do not know, use the Yahoo dictionary to build your vocabulary.
January 4: Well – holidays are over and exams are around the corner.  Many of you have spent a lot of time doing study in the holidays.  Many have also played computer games.   You also must have some time each day to improve your speaking and listening skills.
The ManyThings.org website has lots of activities to improve your English skills.   You can start with the easy ones and when you are ready, you an challenge yourself more.
Cycle 7 and 8 : Nov 7 (Groups 1 &4)
We will be doing some exam practices and discussing more issues from unit 2.  You can work on your speaking and listening skills further by watching the story about organ donation as a homework task.   Look at the transcript while you watch.  Recently, a liver donation in Hong Kong was big news.  Did you read about this? if not, you can read it here: the Standard.   What do you think?
Cycle 6: Successful People and amazing deeds (groups 1&4):
While we are on this topic, probably the biggest story this year about an amazing success is the rescue of the miners in Chile.  You can watch a report on this, read the transcript and follow the dialogue as a way to improve your own speaking. http://www.abc.net.au/btn/story/s3038368.htm
Cycle 3: Sept 28

This may get a little complicated as there are two different courses and themes – but you mayenjoy looking at a range of material anyway.
Groups 2, 3 and 5 are looking at sport as a theme.  There is a display of words and images outsde the English Centre.  Today, we watched a short video on swimming and elite sport from the ABC.  You can use this to learn new vocabulary and work on your listening skills.   There are also some ideas you can include in the discussions we will have.