LISTENING TASKS:
Some listening for tone
Why intonation matters – emotions in English https://www.youtube.com/watch?v=bSx6Zg9Ibgw (Start at 3.16 "yeah")
Further on tone: "Guess what happens next":  https://www.youtube.com/watch?v=KQ7-lQayWHY
Sad tone: https://www.youtube.com/watch?v=c9hAgVBFunc
Angry tone https://www.youtube.com/watch?v=GCMoghrlGhY
How does the tone of your voice change for each emotion? (Harry Potter) https://www.youtube.com/watch?v=ET8-tij7TUg
Tone of voice: https://www.youtube.com/watch?v=hPQyHXc1ksA – this works well at linking tone of voice with emotions.  "That's fine" – Hadar Shamesh
Respect : https://www.youtube.com/watch?v=1wVw4D5KvVM
"I'm fine" paralanguage: https://www.youtube.com/watch?v=P5j0DFkbnE0
Communication "coach " and tone of voice https://www.youtube.com/watch?v=5hvVjOqk_4o
…. science of emotions https://www.youtube.com/watch?v=mD_MXOCvVYo&t=75s
TED X – watch the whole lot or start around 11.39 – warmth Tone https://www.youtube.com/watch?v=OpgJw8S1I2Y
January 25:
The ESL Radio and TV link has a number of short clips for listening.  You can also open these in YouTube and use Closed Captions to follow the text.  Each extract has a short quiz to test your listening / memory which can be done on line.  Remember to keep a log of the tasks you complete.  Identify key vocabulary to add to your vocabulary notebook.
January  20 2021:
Select download audio to open the file.  You can download some questions below.  Note – you only need to listen to the first 6 minutes to get the answers to the questions.  Listen to the whole text for fun – and more practice.  E-mail me if you want a transcript of the audio.
January 13 2021…… Here are a couple of short listening clips.   Aim to keep a log of what you have listened to – and some notes about key arguments made as well as (who, what, when, where and why)
Note – You tube clips can be seen using closed captions – but sometimes the words shown on the screen aren't accurate.
WEEK 1 – Note taking exercises : Murray Darling Basin
Questions from BTN:
1. What was the main point of the BTN story?
2. What states and territories does the Murray-Darling river go
through? Locate on a map.
3. How may wetlands can be found along the Murray-Darling river?
4. Wetlands along the Murray-Darling river are getting the water they
need. True or false?
5. How does flooding improve the health of wetlands?
6. What has changed the natural flow of the Murray-Darling river? Give
one example.
7. Why did the Government create the Murray-Darling Basin Plan?
8. Complete the following sentence. Part of the plan was to protect
wetlands by allowing _______ into floodplains.
9. Why are wetlands important?
Great podcast to focus on listening / tuning in.  It's a bit long – but you could listen to chunks. A transcript for the biking episode is also available so you can follow up on words you didn't quite get : https://www.newcastleherald.com.au/story/6941436/voice-of-real-australia-episode-three-transcript/
Read the Questions Open the Youtube program below.  Listen to the program.  Do not watch!  Take notes. Listen a second time and finish your answers.
Check your answers using the Marking Guidelines.  Watch and review your answers. Do some extra listening using the link below.  As you listen, practice taking notes – even though you do not have questions.  A reminder your SAC will be on Wednesday.
TED talk on Grit
BEHIND THE NEWS: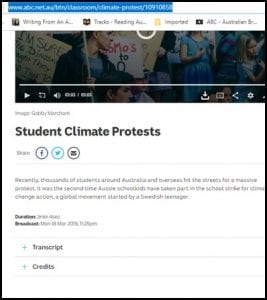 A simple activity to do once a week is to find an interesting Behind the News episode.
Watch and listen to the episode.
Listen to the audio without the images – try to be aware of words you don't quite "get".
Listen to the audio while you read the transcript.
In the Listening / Language Analysis workbook, make short notes about – Who, What, When, Where and Why
Make notes for yourself about new vocabulary, or words you didn't really tune in to.
Some episodes to look at include:
HORSE RACING
ESPORTS
DEEP FAKE VIDEOS
DROUGHT
Counting the cost of bushfires on the 7.30 Report. Short clip – and it comes with a transcript – so great Listening practice.
ARGUMENT ANALYSIS:
There's some good reminders in this online study guide.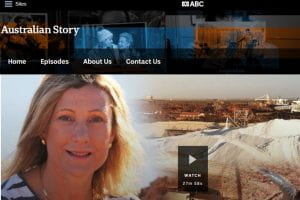 This episode of Australian Story was used for the extract for the 2017 NSW HSC Listening paper.  While it's longer than your listening exam is – it does also come with a transcript so it is is worth listening to and following up words you may not be familiar with.
ATAR Notes : Some useful inspiration and strategies
7.30 report – ABC TV / IVIEW:
The 7.30 report can be seen in TV – or watch on iview  The great thing about iview is you can rewatch and also use Closed Captions to check on your understanding of the text.
This can fill in 5 minutes – but can be difficult to listen to because of the British accents
ABC listening podcasts with Transcripts:
1. Great moments in Science – there are a number of listening activities about 6-7 minutes.  The most recent is about Veganism
2. Year 13 at a Queensland school.  3 minutes. No transcript
3. Short and sweet clip about music – but no transcript
4. Mobility scooters       3 minutes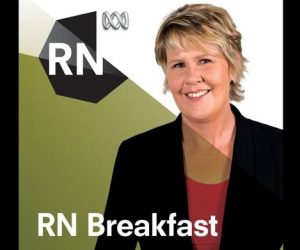 The case for a sugar tax – Listen and take notes about the main points.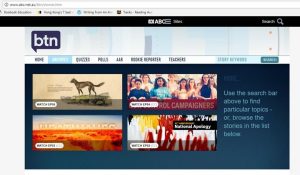 BTN dingoes link
Here's a well structured persuasive speech that uses a range of persuasive techniques.
2. Listening Task: Audio for the text activities:
3.   EAL VCAA sample Exam – audio files
4. BBC The English we speak : frenemy
TRACKS: Interview  – note this was after the film came out. Many of the clips and images are from the film – not the book.  Remember – you are studying the book – NOT the film.
Booktopia Interview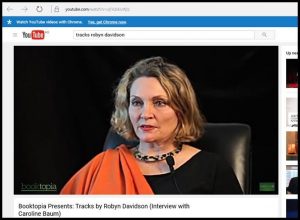 Time for Kids Interview
Wonthaggi Secondary College TRACKS resources
Tracks and Charlie's Country guide
      **********************************************************************
GRAMMAR – Some links for when you are a little bored!
Some more verb tense activities: English Page.com Grammar Bites – Learn English for teens  **********************************************************************
The Age website includes a link to letters – a great source  for looking at the application of persuasive techniques **********************************************************************************8
You can use the link to quizlet above to help revise your understanding of key persuasive techniques.  Remember though – you do not need to name the technique.  The key is recognising where a technique is used and how this is designed to position / influence the reader / listener.  There are a number of slide shows available online that will help you recognise and explain the use of persuasive language techniques – the link about will take you to one – but there are others. *****************************************************************************************
*